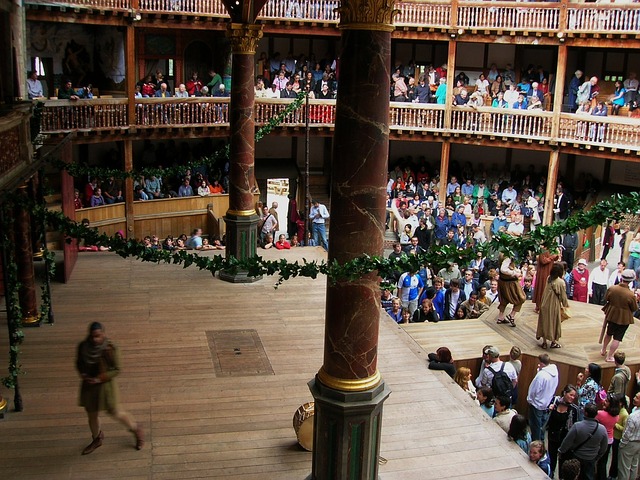 The Globe Theatre was a popular theatre in the city of London, England, four hundred years ago. 
It is mainly remembered because it was partly owned by the famous poet, actor and writer of plays, William Shakespeare.  Many of Shakespeare's plays were first performed there.
The original Globe was built in 1599, but was burnt down in 1613.   It was rebuilt in 1614, but closed in 1642.
Today, you can visit a reconstruction of the Globe, called "Shakespeare's Globe", which is built in almost exactly the same place as the original.  It is a real theatre, and you can go there to watch Shakespeare's plays performed in the original setting.
However, not everyone can get to London.  If you can't visit in person, don't worry!  Shakespeare's Globe has an excellent free app for iPhone or iPad called Shakespeare's Globe 360. 
Not only can you move around, and zoom in and out to explore, but the app contains photos, videos and interesting information about William Shakespeare and the theatre.
The ability to look at everything around you lets you feel just what it's like to be an actor standing out there on the stage.  You can also go on your own backstage tour and more. Plus, by using the app marker, you can see the Globe Theatre in 3D!
It's fascinating, educational and a lot of fun.  It really is the next best thing to actually being there.
Note for parents:  The app does contain an optional in app purchase.
Here is a video to give you an idea of what you'll experience with this app.