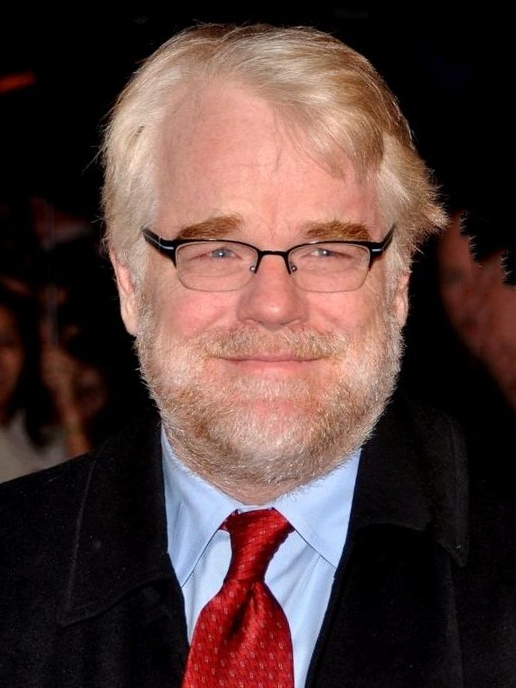 "Act wherever you can and always act as well as you can."
Philip Seymour Hoffman (July 23, 1967 – February 2, 2014) was a talented American character actor.  He also worked as a director, and as a producer of both film and theatre.
His love of acting and theatre began when he was 12 years old, after he went to a stage production of Arthur Miller's play All My Sons with his mother.  He later remembered, "I was changed – permanently changed – by that experience. It was like a miracle to me."
He joined a drama group, got chosen to attend an Arts summer school, went on to study for and receive a drama degree. 
Philip Seymour Hoffman started with small roles, but his talent and willingness to learn from other actors gradually led him to lead roles in movies.  He also worked extensively in theatre.
For one film, called Capote, he received an Oscar, Golden Globe, Screen Actors Guild Award and a BAFTA.
He did not look at all like a typical movie star, and he said that this had worked for him because he got offered so many different types of roles. He once said that he approached roles by looking at the ways that the character was different or similar to himself.
Many people thought he was one of the best actors of his generation.
Here is his advice to anyone wanting to become a successful actor.
Transcript (what is said in the video)
Interviewer: ... and I'm just curious for those that are watching ... aspiring actors and actresses ... you know, those that are thinking about it or trying to make it. What do you say to them? I mean ...
Philip: Um ...
Interviewer: Advice. What kept you ...
Philip: No, I know what she means. I think, what you really want to say is that you have to act ... this is really when you're first starting out is ... you have to act wherever you can. You can't be picky. You really have to act wherever you can and wherever you get a chance to act, and that might be even be just in an audition room. (This is something a teacher told me years ago and he's right.) Even if you're auditioning for something that you know you're never going to get, or you might have read it and you might not even have liked it, but you know that you have to go ... If you get a chance to act in a room that somebody else has paid rent for, then you're given a free chance to practice your craft. And in that moment you should act as well as you can, because if you leave the room, or the theater, or wherever you are, and you've acted as well as you can, there's no way that the people who've watched you will forget it. And that was something that somebody told me a long time ago, and I do think that's the only advice because it's always about that. It's always about the work at the end of the day. Everybody knows that. (Pause) Absolutely. If I show up to work one day and the work I'm doing isn't any good, I'm just a guy who's not acting well. (Laughter) ... I'm a guy who's not acting well. You know, and you're just always back to that moment. You're always back to that moment where you have to act as well as you can. And I would say it to anyone starting out, it's like if you're given a chance to act, take those words and bring them alive, and if you do that, something will transpire ultimately.